Raphael Pierquin requested an unprepared session at Agile Open. I guess many people would feel an unprepared session, even without a formal agenda at the beginning would lead to a conversation like this: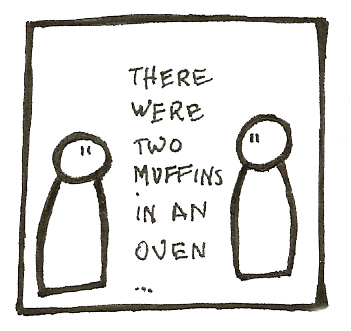 there were two muffins in an oven comic by Adam Hally
People often fear the same of an unconference as a whole. The unprepared session turned out to be exactly the opposite.
The conversation was extremely focused. We used Moo Cow several times during this session. Calling "Moo" helped us to keep laughing, it was a great paradoxical way to maintain focus. Everyone was listening intently, all participants were facilitating the discussion, and we got time to work on some topics in depth. Raphael started off with a difficult question that we delved into, after that we tried a temperature reading because several participants wanted to try it out.
After the temperature reading, we had a discussion on the forces that make it work or not. Because the unprepared session took place in an unconference, participants could (and did) walk in and out of the session at any time. Several people joined in halfway through the temperature reading, after we had done the appreciations. Again it turns out appreciations have a special effect on the meeting. If you join a temperature reading after the appreciations, you miss the atmosphere, and the other participants can not bring you 'up to speed', because the atmosphere can not be verbalized.
Neither can the unprepared session. I hope I gave an impression that does it a little justice. I hope to have some more unprepared sessions here at european consultants camp.