Raphaël Pierquin just put the rough version of the agile open france proceedings online – to enable 'us bloggers' to start using the proceedings he uploaded scanned images with an index. A more polished version will follow later. This 'reduce cycle time' version already provides lots of value to me. For instance, I can now show you the beautiful notes Antoine Contal made of 'Beyond Agile':
Notes of Beyond Agile. Click the image for the full-size scan.
I decided to propose a run of "beyond agile", so I could try a different way of presenting the cultural patterns before qcon London this wednesday. The runs at xp days last year (then dubbed 'people vs process') were well received, and gave us ideas for improvement:
we needed the question and answer time to get across why we believe these patterns are useful in our work (they help us determine where we are, and decide on a strategy on where / how to go next),
attendees got the idea that one goes from one pattern to the next in a linear fashion. We then presented it in a linear fashion then, so surprise,surprise…
In this instance, I ditched the slides and presented from flipchart. After presenting the 'why', the participants did a round of experiences on the questions:
'did you ever experience people telling you that your mix of 'agile' practices is too much process? '
'did you ever experience people telling you that your mix of 'agile' practices is too little process? '
We then gradually constructed the circle, starting with the cultural pattern ('routine') suggested in the story told by the last participant. Meanwhile, I explained some common choreographies (the arrows), each with their advantages and difficulties through stories: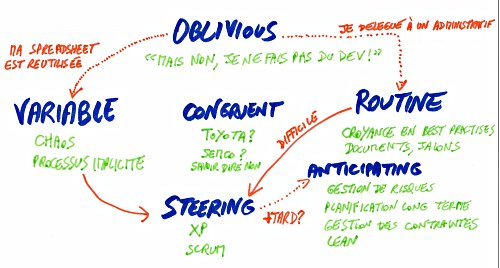 We discussed more choreographies than could sensibly make the notes, and further discussions over dinner gave me some more inspiration. Even this 'circular' drawing follows the same linearity as in Gerald Weinbergs' books. In wednesdays' presentation we're also going to talk about some other choreographies (e.g. going from routine, or routine to oblivious).
As you might guess from the notes, we ran the entire session in french. I needed to ask for some words, and probably my grammar is not up to par, but overall it went much smoother than I expected. The other participants were extremely helpful in letting me and Barry Evans speak as much french as we could, providing us with words when needed, and allowing us to switch back to english when we couldn't manage in french – less and less frequently needed as the days passed
.
So now it's time to re-order the slides in a quasi-random order – some order that allows us to string stories together in a way that makes sense to the audience, add choreography slides and practice a bit more. I hope to see you at qcon on wednesday.