Nicole Belilos and yours truly are going to present "Pimp my Retrospective" at the first Agile Holland conference this friday: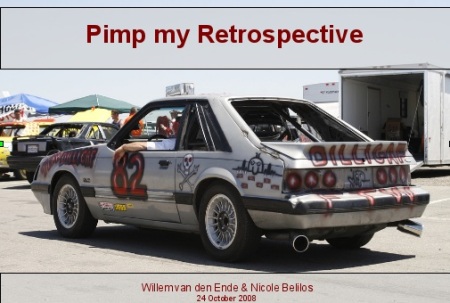 Title slide, with a photo by Colin a pimped 'Lemon' at the '24 hours of Lemons'
Slots there are just 45 minutes, so we made an interactive presentation with two short excercises: we're going to ask participants suggestions on how to 'wreck' a retrospective and then spend more time on how to 'pimp' one, followed by our own favourite pimpin' practices. We made all the slides like the one above, some pimped cars, some wrecked, and some plain strange (as well as Saint Nicolas on his horse). I notice with slides like these, I'm much more looking forward to giving a presentation.
Curious? Join us at the AgileHolland conference Oktober 24 in Amsterdam
or read on for the full session description.
Do you have a retrospective regularly? Are they always effective, and always yield useful actions? Does each and every member of your team look forward to it? Does everybody participate actively?
Keep it that way! Your retrospectives are like a flashy new sports car…
Or do your retrospectives turn boring after a while? Do the participants yawn loudly? No new and refreshing results? Does this result in reflection happening less and less often?
Then there is only one solution: pimping!
In this session we'll take the participants to our garage, and figure out how to transmogrify an old, steady retrospective into a super hot Retro. We'll share our experiences and tips, and would love to hear yours. So, whether your Retro is a dented old Lemon or a shiny Ferrari, there's always something to take away from this session.
Credits:
English session description based on dutch description by Nicole
photo by Colin has a Creative Commons Non-Commercial Share-Alike license