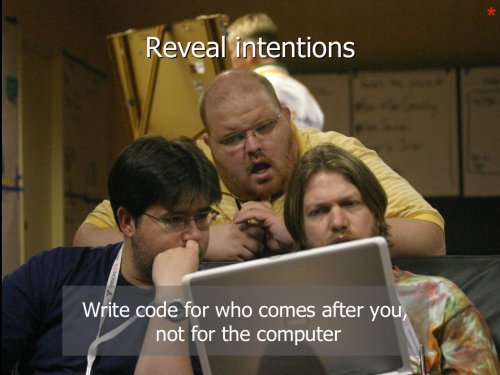 This is a slide I made for a workshop on Refactoring Legacy Systems I ran yesterday. I love the puzzled look on their faces.
The photo was made in the open space at agile2007, featuring JB Rainsberger and two others (sorry, remembering names at large events like agile200* is difficult for me – the guy in the middle was a volunteer in a session I co-hosted at agile2006).
The agile2008 call for participation is out, to give you an idea what is going to happen. Major change for next year is the idea of stages, each stage with a specific theme.
Close to my heart is of course:
Agile and Organizational Culture
Producer: Marc Evers; Assistant Producer: Linda Rising
Agile is not only about changing the way you work and changing the way you think – doing agile in a sustainable way requires changing principles and values. An agile initiative doesn't take place in a vacuum, it has to interface with the existing organizational culture. It will influence the organizational context and the other way around. This stage provides a space for discussions, teaching, learning, and sharing experiences about agile and organizational culture.
Space for new session organisers and pushing the envelope:
Breaking Acts
Producer: Laurent Bossavit
Agile as it stands today is still a work in progress. For Agile software development to remain relevant, it must incorporate new ideas continuously. This stage is for speakers who bring a fresh and surprising look to aspects of Agile we thought familiar, and speakers interested in ideas that are relevant to Agile but not accepted yet as "mainstream". First-time speakers are particularly welcome.
And of course, another Open Space
Open Jam
Producer: Esther Derby
The regular program presents a wide range of presentations and experiential sessions. The Open Jam stage is a place to share questions and quandaries, talk to the experts, demonstrate software and techniques, and experiment with emerging Agile practices and ideas.
There's also a francophone stage, hosted by Emmanuel Gaillot, since Agile2008 will be in Toronto, Canada. I will be visiting Toronto December 6 through 9 for an agile alliance board meeting – that way, board members involved in the conference organisation can combine two things in a trip. Let me know if you're in the area and would like to go for a beer