Nynke was apparently thinking along similar lines as I was in Right here, Right now. She writes in Bridging by thought not what it seems?:
It all depends on what significance people assign to a particular "thought". And whether or not we need/have an authoritative source to refer to, or work from our own related recollections of experiences which can be rather vague, or hard to distinguish well enough, and hard to explain, for becoming (re)useful in an other context.

We often call such recollections "internal babble" or "irrelevant", in order to more easily ignore associations and messages bubbling up.
By the way, her entry links to beautiful snowflakes under the microscope. Like snowflakes, no two situations are exactly the same, but they can be very similar.
Nynke e-mailed me about the relevant use of a reaction. In case of an emergency, like seeing people in a burning car, careful deliberation is usually not the preferred choice of action, we can trust ourself / our memory telling us that rescuing the shocked people in the vehicle is the best choice.
Other situations require a response, and some thinking before doing. Nynke says "Stop the world… and check possible causes and effects: [...] thinking BEFORE intiating a change, THEN action, that is a response"
I was thinking of how to apply the Satir interaction model in situations where "people" (or me) give a reaction when a response would have been appropriate.
Usually the interaction model is drawn for one person. That kind of misses the point for me; an interaction involves at least one other person. When we prepared the first run of balancing act, I drew the interaction model for two persons:



Seen through the lense of this model, what happens if I give a reaction, is that I speed through the meaning and significance stages, going straight to response. If the other person does the same a fight is the likely result.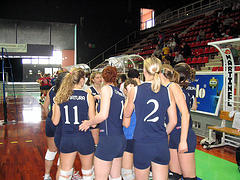 "Stopping the world" is a way to break through this. Each person in the interaction can decide for him or herself to slow down. Take a time-out, ask yourself what you saw or heard, and if the situation allows, ask the other. Say "maybe we're getting in over our head here" or "I need some time to think about this", or "I'm puzzled".
Dale Emery uses the interaction model as well. I like what he wrote in Untangling Communication :
By applying the same level of awareness and problem-solving skills that you use in catching problems in software, you will begin to notice the signs of trouble in communication just a little bit earlier. In many cases, that will be enough to trigger you to slow down, walk through the communication process, and get your communication back on the right track.
I'm having fun "debugging" sessions with someone. We share keys from recent events, seeing where we mis-interpreted each other. "What did you see?" "Oh?" "What did you make of that?" "Right… that is not what I intended…".
"Debugging" sessions are a lot of fun. They help me generate more responses that generate the responses I desire. They do require a level of trust and openness, thatseems to be rare (according to what I see, and what I hear from others) .
When the required trust is not present, I have a debugging session with myself, or sometimes with a third person (e.g. a friend, coach or colleague, in my circles often rolled into one
).
I guess stopping myself in the moment or having a debugging session afterwards helps me create more trust and openness in situations that deserve it. And create more deserving situations over time.